According to an AP article that I read yesterday on ESPN.com, American goalkeeper Brad Friedel recently set the record for most consecutive English Premier League appearances, with 167. Friedel, who plays for Aston Villa, set the record on Saturday in a game against Fulham. Afterward, he had this to say about his longevity:

"I have been fortunate with injuries, touch wood, and when I have got the odd knock it has always seemed to coincide with international breaks."

Over here, we say "knock on wood," Brad. Touching wood is something else entirely.

And:

"Is it nice that I have been able to get a run of games? Yes, absolutely, but I hope to have many more games ahead of me."

A "run of games"? The "odd knock"? Yes, yes, and a wicked googly to you, too, good sir. Now if you'll excuse me, I must take the lift to the loo. I'm going on holiday in a fortnight and the lorry is a tad late with me tea and crumpets. You're from OHIO, Brad. Ohio.

British-isms aside, I'd like to congratulate Friedel. It has taken years for American soccer players to earn even a modicum of respect on the international stage, so it's good to see a U.S. player stick around for so long in what is arguably the greatest league in the world.

In related news, Tony Meola has worn the same pair of sweatpants for 167 straight days.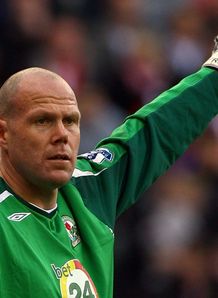 Brad Friedel is grizzled. Also, his team's primary sponsor is a 24-hour gambling site where you can go to place bets on English Premier League matches. Pete Rose played the wrong sport.