As the first wave of NFL free agency comes to a close, it is time to look back and reflect in the only way I know how. Since I just played the Endless Setlist on Saturday with a fellow blogger and a friend of the blog, I have nothing but Rock Band on the brain. As such, I give to you the headlines and highlights of the first few days of free agency as told through the soundtrack of EA's Rock Band.

First in my heart and mind, as always, is the Philadelphia Eagles.

Philadelphia Eagles - Signed cornerback Asante Samuel to a six-year contract
Enter Sandman by Metallica

Hush, Lito baby, don't say a word. And never mind that noise you heard. It's just big, bad Asante Samuel coming to take your job and all of your monies.

Buffalo Bills - Acquired defensive tackle Marcus Stroud from the Jacksonville Jaguars for undisclosed draft picks.
Black Hole Sun by Soundgarden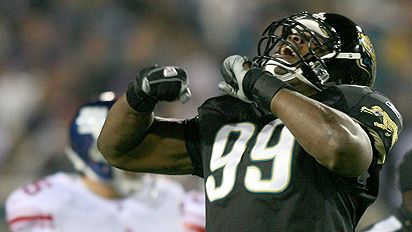 And the monstrous defensive tackle from Jacksonville gets associated with the only song in the game to reference a super massive astronomical phenomenon that nothing can go anywhere near and remain intact. He's a black hole, son. Now we only hope for Wilson's sake that you can wash away the rain up in Buffalo.


Chicago Bears - Resign Lance Briggs
Run to the Hills by Iron Maiden

"Enslaving the young," Check (Franchise tag anyone?). "Destroying the old," Check (poor Muhsin Muhammad). Unfortunately for Sir Briggs-a-lot (get it? Lance? Lance Briggs? Hilarious!), he was forced to run to the hills and back to his old franchise after the Bears quite literally "chas[ed] the Redskins back to their holes / Fighting them at their own game."

Green Bay Packers - Announced the retirement of Brett Favre
Epic by Faith No More

No comedy here. We will never see another football player to rival this man.

Atlanta Falcons - Released Warrick Dunn
When You Were Young by The Killers

It's true. He doesn't look a thing like Jesus.

Pittsburgh Steelers - Signed Ben Roethlisberger to an 8-year contract extension
Highway Star by Deep Purple

Sorry, Ben (both of you)... I had to do it...

New England Patriots - Resigned Randy Moss to a 3-year contract
Should I Stay or Should I Go by The Clash

This after word came out that the Eagles made a run at the most electrifying receiver of the last decade, only to be rebuffed. Randy instead decided to take a pay cut in order to continue setting the league on fire with his pretty boy quarterback. Eh, who can blame him. Who doesn't want to kiss Tom Brady on the mouth?

Oakland Raiders - Signed Javon Walker to a 6-year contract
Flirtin' with Disaster by Molly Hatchet

This is actually Al Davis' theme song, but my inclusion of it was really just a flimsy pretense to throw this album cover up on the blogaroo...
There's a freaking marauding Viking on the cover! How awesome is that? No need to answer. The look in your eyes says it all. By the way, in about 3 months, that axe he is holding is going to be firmly planted into Javon's anterior cruciate ligament.

Alright, there are plenty more that I could do, but this post has already taken far, far too long to write. Just ask Wilson. Feel free to make additions in the comments, because I could seriously do this all day. And I did. That day was yesterday. Here is the list of songs. Go crazy, I implore you.